Augustin Lehfuss – Musical History
His birthplace already prophesised his eventual career as a musician, with the Austrian capital of Vienna long considered the benchmark city of musical excellence. In 1963, Augustin's year of birth, both pop and jazz were still fringe genres and things belonging to musical outsiders. While John Coltrane performed at the Newport Jazz Festival, Miles Davis recorded his legendary album "Seven Steps to Heaven" and Nat King Cole reached an audience of millions, the Austrian music scene was still dominated by Viennese songs, operettas, and, of course, great classical music. Most often heard on one's home transistor radio were German schlager hits from the likes of Peter Alexander, Fred Bertelsmann and Catarina Valente.
Augustin comes from a culturally diverse family of doctors: his parents were hard-working concert and theatre-goers, who also subscribed to the Vienna State Opera. After buying a Bechstein grand piano, their little five-year-old began playing on it. After the first months of lessons under the watchful eye of the highly regarded Professor Leopold Großmann, Augustin didn't have the energy or will to practice scales like a machine. Instead, he preferred to learn the hits from the radio by ear. His first attempts at composition stem from this age, preserved in the scribbles of child's handwriting, never to be made available to the public.
When he ran out of patience with his music school lessons and looked for a new teacher, Augustin found Helmut Henesch, a studied classical pianist who had accompanied many greats of the international jazz scene in West Berlin for a few years. He also had a large record collection. This clever man knew just how to deal with the adolescent, showing him the first jazz standards while managing to keep his interest in classical music alive.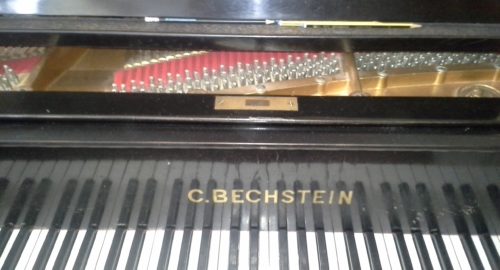 There were many records in his parents' house, almost exclusively of classical music, but the record player in particular was his father's domain, and was only to be used by clumsy teenagers under his supervision. One day, a portable LP player lay under the Christmas tree alongside an LP: Louis Armstrong's "Hot Five" – it quickly became clear to Augustin, he needed a trumpet!
His wish was actually granted and the first scratchy tones from his shiny new 'King Silver Flair' began to torment the neighbourhood. It was not enough to transcribe and attempt the wonderful solos of Satchmo, he had to play his own… And when an LP of Glenn Miller expanded his small record collection, the ropes were cut loose. Glenn Miller's greatest hits, Satchmo's legendary recordings from the early days of jazz, and the musical 'The Sound of Music' were rotated and played around the clock, until the scratching of the vinyl discs drowned out the music. It became apparent that the musical genius' interest would not only be in playing music, but also in writing music.
After barely passing his high school diploma and then a few ventures into other areas of interest, Augustin passed the entrance examination for the jazz department of the Vienna Conservatory, which he in turn completed with a diploma in music theory and composition. Since then, he has worked diligently as an arranger, composer, songwriter and, of course, as a musician.
Augustin currently lives between Austria, and the capital of Europe, Berlin. Outside of his musical undertakings, he likes to ride through the streets on his Moto Guzzi, cross all kinds of waters with his paddle boat, while maintaining his status as a holder of a 2nd dan in Shotokan Karate.
Musician and Singer
During his studies at the Conservatory (and of course thereafter), there were many opportunities as an instrumentalist, although at this point in time, as a jazz trumpeter. Augustin played in Big Bands, in soul band horn sections, jazz combos, and naturally in event and dance music bands as well. However, as his ability as an arranger and composer required more and more time, the decision was made with a heavy heart and after many years to hang the trumpet up on the hook.
Because a musician cannot only sit at the desk in front of the computer screen but must also actively make music, Augustin later discovered the wonder of singing as his new and ultimately true passion. Especially after moving to Berlin, Augustin found himself in various bands and formations as a singer. His projects and focuses became clear and crystallised, which you can read about here on this page under "Projects".
References
Over the years, Augustin has worked as an arranger among other things for the following artists:
DJ Ötzi
Big Band of the Vienna "Volksoper"
Woodwind Quintet of the Berlin Staatskapelle
Wolfgang Ambros (Ambros singt Moser)
Vienna Symphonic Orchestra
Quartetto Tonale
Lydia Paich
Patricia Kaas
u.v.a. …
Composer and Arranger
While at primary school, Augustin tried his hand at creating – from his point of view at the time – highly dramatic works of musical art. On his parent's grand piano are scribbles of these smalls works of art, some with ludicrous titles like, "The Crashing Squirrel". After his first contact with jazz, this had to be a blues, the remnants of which are a blues melody in 7/4 – in the key of G flat! This has thankfully still not seen the light of day.
While studying at the conservatory, Augustin received his first commissions as an arranger, mainly for dance and show bands. He would take already existing songs, change their instrumentation, and then make these arrangements playable for the client. This process would shape his craftsmanship immensely. Over a few decades, he created hundreds of transcriptions and independent arrangements for jazz big bands, to all kinds of ensembles and larger symphonic orchestras.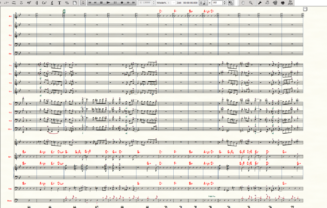 In addition, he also worked to have pieces available for his own personal use. Gradually, Augustin also wrote lyrics for his songs, some in English, and also many in his mother tongue, with which he occasionally performs on a small scale under his 'alter ego' – GUSTFUSS.
Some of these titles have been released on CD
Some recordings, Augustin had been scoring for..
Wolfgang Ambros & Ambassade Orchester: Der alte Sünder
Woodwind Quintet of "The Staatskapelle Berlin" – In Between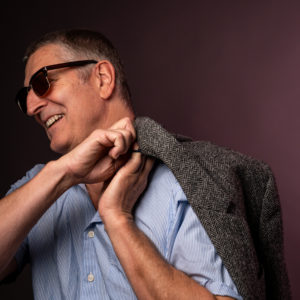 The Future
Not even the heavens know what the future holds, but it is certain that Augustin is far from finished. Now living in Berlin, the capital of Europe, there are lots of ideas for future projects – and also many finished but not yet produced or publicly released songs and compositions in the drawer.
One thing is assured: In order to realise all of his ideas, Augustin would have to turn at least one hundred years old – and he will try his best to come as close as possible to this magical number… One can be curious..